Volunteers needed for intra-dermal JE vaccine trial (JEVID)
April 11th, 2021

We are looking for participants to give the normal registered  Japanese Encephalitis vaccine using the IntraDermal route and then take some blood to see how well it works compared to the usual Intramuscular route.  

Japanese encephalitis (JE) is a dangerous disease in Asia spread by mosquitoes

Travellers sometimes need JE vaccination if they are going to visit a JE risk area.

The most commonly used Japanese Encephalitis vaccine is very effective and lasts for life but costs $200- $300. As the disease is rare, many travellers do not get the vaccine due to the cost. This project involves investigating if the JE vaccine can be given intradermally so we can provide it to travellers more cheaply and make the vaccine 'go further'.

Intradermal vaccination (ID) means giving a tiny dose of the vaccine (0.1ml) into the surface layers of the skin, instead of a bigger dose deeper into the muscle. The surface layers of the skin are especially rich in cells that make antibodies so a smaller dose often works just as well.   ID is how we often give rabies vaccine, sometimes give influenza vaccine and how we always give the  Tuberculosis or TB vaccine.

There is evidence that one of the older JE vaccines worked when given intradermally, but that vaccine is no longer on the market.

The vaccine we will use is a regular normal licensed JE vaccine.

We are looking for participants who would like to have JE vaccine using the ID route, and help advance medical science.

We are experienced at research and have ethics approval through the University of Queensland and the Australian National University Human Research Ethics Committees.

Participants need to be
Based in or near Brisbane, Australia so they can participate
Aged from 18 to 45 year
Have never lived in a JE risk area for 12 months or more.
Have never had the disease dengue fever.
Have not had any vaccines for JE, yellow fever, or dengue fever or planning to need these during the next two months. ( Covid vaccine is OK )
Are not pregnant, planning to get pregnant, or breastfeeding
Do not have any disease or take any medication that depresses the immune system (e.g. cancer or on chemotherapy)
Have no contraindications to the JE vaccine or live vaccines (we will check this when you come).
Not planning to travel to  JE risk areas within the next two months
The trial is called JEVID (Japanese Encephalitis Vaccine IntraDermal).
The full participant information sheet is here: JEVID participant information sheet 
This is the summary trial schedule.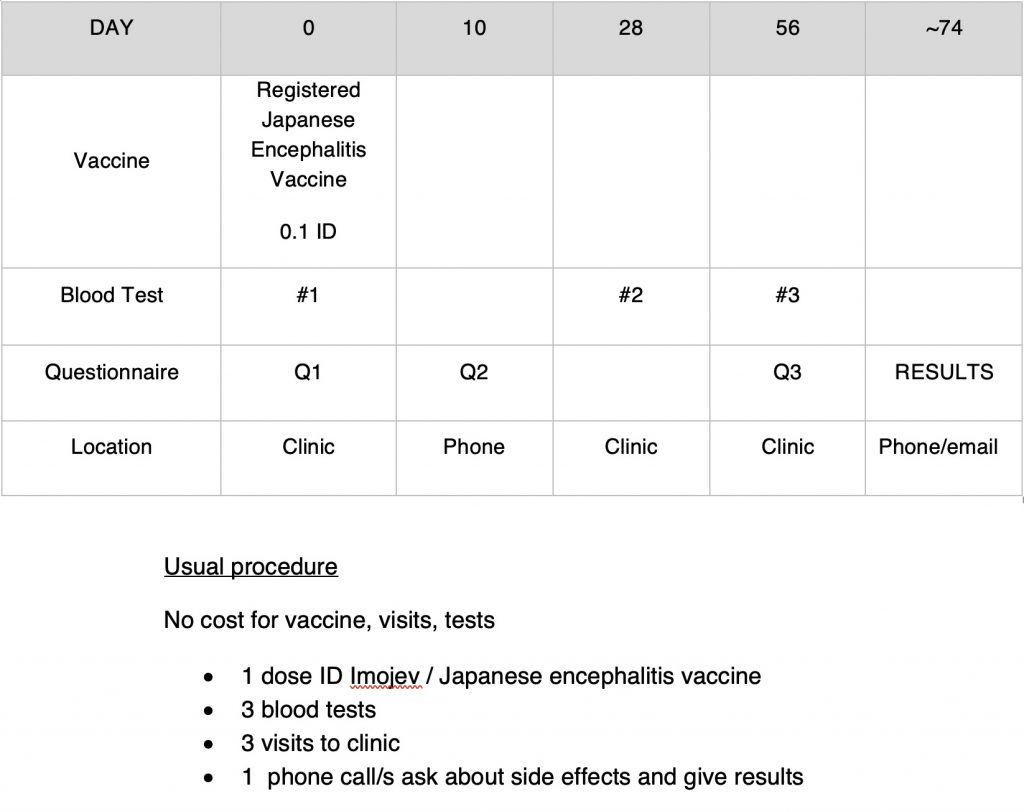 Participants receive $50 at the end of the project to cover 'incidental costs'.
We are currently enrolling for this trial. If you would like more information, please call the clinic 0732219066 and ask to speak to Chris who is our research assistant or send us a message here.
Could you help? Do you know someone ?friends ?colleagues ?relatives who might be interested?  please tell them or share this page. Medical research relies on volunteers to help research better medical care.
Thanks for reading and helping if you can.
Dr Deb and the CRESTMA research team