Clinic
Our Travel Medicine clinic is dedicated to looking after the health needs of travellers. Dr Deb The Travel Doctor has been providing this Travel Immunisation service to travellers since 1988.
The Medical Director is Dr Deborah Mills.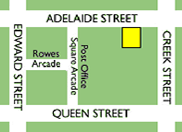 Brisbane CBD Clinic
Our Dr Deb The Travel Doctor Clinic is located on the 5th Floor of 247 Adelaide Street – between Creek and Edward Street, and two doors towards The Valley from Post Office Square.
Central train station is only a 4 minute walk away.
Unfortunately our building does not have any parking. If you need to drive, the closest parking is next door at the Post Office Square carpark.
King George Square carpark has special rates here for weekends.
Our standard opening hours are below but 
During the war on  COVID19 clinic hours will subject to change to adapt to the downturn in travel. The phones will always be answered so Please ring the clinic first before coming in. Note that we are not equipped to do nasal swabs for COVID-19.
Ph: 07 3221 9066
Opening Hours
Mon: 8am - 4pm
Thu: 8am - 4pm
Tue: 8am - 4pm
Fri: 8am - 4pm
Wed: 10am - 5pm
Sat: 9 to 2pm but by appointment only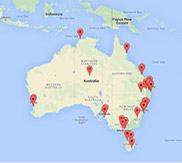 Clinics Outside Brisbane
Dr Deb's clinic is one of the founding members of the Travel Medicine Alliance.
If you need to access a travel medicine clinic outside Brisbane, we can recommend our colleagues in the Travel Medicine Alliance. There are offices in many parts of Australia. All the members are licenced to give yellow Fever Vaccine.
Visit the website at www.travelmedicine.com.au for a map of where clinics are located in Australia, along with all their contact details, or you can phone 1300 42 11 42, and you will be forwarded to your nearest clinic.
Travellers from outside Australia can find travel doctor services around the world here.