Rabies Vaccine Research Project BORS
January 17th, 2020

Update 21-4-21

We are thrilled to report we have now published this research.

Mills DJ, Lau CL, Mills C, Furuya-Kanamori L. Efficacy of one-dose intramuscular rabies vaccine as pre-exposure prophylaxis in travellers.

Journal of Travel Medicine. 2021 Apr 10;taab059.

Link to the abstract is here

Thanks so much to all those who assisted with this project.

This research proved that persons who are leaving at short notice are better to have one rabies vaccine before they go, even if they do not have time to have two doses.

EVERYONE in the study group developed good antibodies if they needed post exposure treatment within two months

This was the ages of the 94 participants in the study group.
Below are the results
Everyone was negative at the start for Rabies antibodies ( as expected ).
Even though only about a third had measurable antibodies a few months later , ALL participants were BOOSTABLE – that is they made great antibodies when given two doses of simulated post exposure vaccination.
We still have no information about what happens a few years down the track – but for short trips of less than 2 months  –  if you have had one dose and you cannot get RIG, this is very reassuring.
Note that Currently the World Health Organisation still recommends to have RIG after an animal exposure if you have only had one dose of rabies as a priming course. ( the recommendations from WHO is to have TWO doses priming course for rabies before travel.)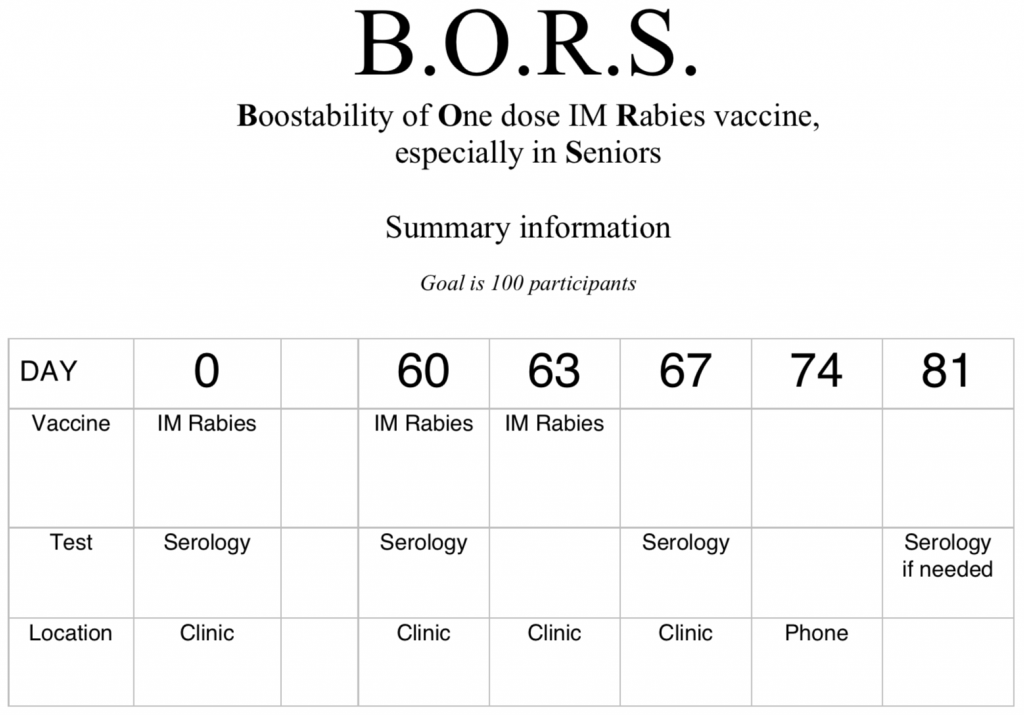 The participant information sheet we used is here:  BORS PIS