Rabies Vaccine Research Project BORS
January 17th, 2020

UPDATE 31 Oct 2020

We have now finished enrolling new participants for our study and are working on the completion of the various stages of the project with our existing participants – thank you

This project is to investigate and document how well ONE dose of rabies vaccine primes the immune system to produce antibodies that protect against rabies. This project has Ethics Approval from the Australian National University (Protocol 2019/451)

Currently, 2 or 3 vaccines are considered necessary to prime the immune system against the rabies virus. If the immune system is already primed and then an individual has a rabies risk animal exposure,  they only need two doses of rabies vaccine (Day 0 and Day 3). If the immune system is NOT primed, then the person needs at least 4 vaccines ( Day 0, 3, 7, 14) plus a blood product known as RIG, which has to be injected into the wound. ( Yes this is as bad as it sounds. )

We want to answer the question –  especially for persons travelling or exposed at very short notice, – is it enough to have just one dose of rabies vaccine to prime the immune system.

We have secured some funding for this project, so we offered participants 3 doses of intramuscular rabies vaccine for free. At the end of the project, each BORS participant will have recognized pre-exposure rabies priming of the immune system with blood test confirmation. It will, however, take a bit longer than average and involve blood tests.

Participants must be
over 18 years age, but 50% of our enrollments need to be over 50 years age
not immunosuppressed,
not pregnant,
have never had a rabies vaccine,
not going to a rabies risk area or handling flying foxes for 90 days,
available to participate in all the visits.
The study involves :
4 visits to the city (5th floor 247 Adelaide Street, Brisbane)
3 intramuscular rabies vaccines,
3 blood tests, and
1 phone call.
Visits are Day 0, day 60, day 63, day 67. The phone call is day 74. Blood results will be available on Day 74 phone call.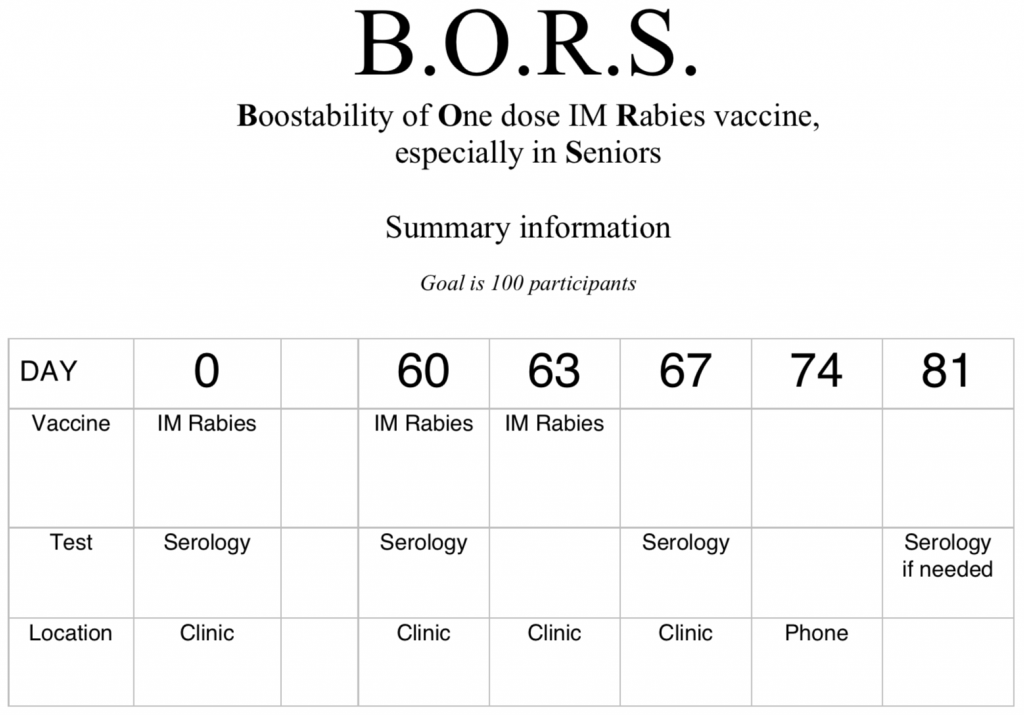 We expect participants will be flying fox carers and their families, vets, vet nurses, and travellers who will not be leaving for at least 90 days.
The participant information sheets are here:  BORS PIS
If you would like more information, please email  < clinic AT thetraveldoctor.com.au > or phone 07 3221 9066 and ask to speak to the research assistant, Christine.
For your information, our clinic is part of the TMA Research Team. If you would like to see all the research that our team has successfully published in the medical literature, please go here.