Yellow Fever Vaccine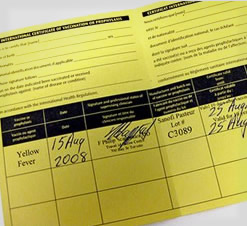 Yellow fever is a serious disease which occurs in Africa and South America. It is transmitted by mosquitoes and can be fatal. Vaccination may be required before visiting parts of Africa and South America.
This is to stop the disease spreading into other countries and to protect the travellers themselves. A vaccination certificate may also be required to enter an infected country or when leaving an infected country and entering the next (non-infected) country.
The vaccination is not available through many family doctors and usually travellers must visit specially approved centres (like us) to have the vaccine. Vaccination certificates are valid 10 days after the injection, and lasts for the life of the person vaccinated. More info
Please contact us to organise your vaccinations.
More information can be found on our Yellow Fever web site.