Medication in case you get sick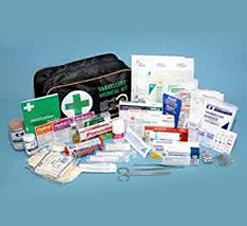 When you're travelling, top-quality medical care isn't always accessible.
We have surveyed travellers, so we KNOW what is likely to happen, and what you are likely to need while you are away. Many travellers are aware of travellers diarrhoea or gastro, but that is not the only thing that can happen while travelling; For example, statistics show that 28% of travellers catch a respiratory tract infection
As with your vaccinations, our clinic tailors the medications we recommend to suit your specific destination, your length of stay and your medical history.
Our travel doctors can help you determine the necessary medication to have on hand in case you get sick. Our staff can supply a zipped Travel Medicine kit bag to make a kit look more 'official', a letter of authority to carry these medications through customs, and easy-to-follow, step-by-step instructions that tell you exactly what to take and when.
The contents of the travellers medical kits include prescription medication and travellers will need to consult a doctor to make sure the medications are appropriate for their personal health situation.
You cannot fill Australian scripts overseas
Video on how to treat travellers diarrhoea