Debugger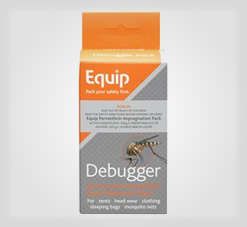 For the treatment of bed-nets, sheets and clothing. Mosquitoes and other insects are killed when they land on material impregnated with the substance. Wearing treated items will significantly decrease the number of bites you get. Treated bed nets have been shown to be four times more effective than untreated nets.
When you wear treated clothes, you still need to use repellent on exposed skin. This is very useful product for keeping insects off fabrics – especially good for long sleeved shirts.
Treated clothes should not be ironed. Most people will not experience any ill effects from wearing treated clothes, although there are rare cases of persons developing a slight skin rash if clothing is worn close to the skin. It is most useful to treat outer clothes, eg an overshirt. This means you can readily wash the undershirt, and do not need to wash the overshirt as often so the permethrin impregnation will last longer. Once treated, the clothes remain effective until at least the fourth wash.
Debugger is $21.95 each plus postage
More information at www.equip.com.au